Lindsey can't get enough of boudoir
Been there, done that, but not here, not with these photographers
When Lindsey came to us, she said we wouldn't be delivering her first boudoir experience. She seemed self-assured, but we later learned the she was "a little nervous being in a new location with new photographers, not sure what my hair and makeup person was going to be able to do with my hot mess of hair."
That reticence is a two-way street, too. Our antennae are always up when we take on a client with past experiences with boudoir photographers. Not that we're unsure of ourselves; rather, we just want to know how the past experiences went and what effect they had on our new client's hopes and expectations of us. Because that can affect the delivery of our own experience.
For Lindsey, she just wanted a new take on boudoir, from a new set of eyes. We were down for that!
The boudoir shoot
As always, our sessions start with a complete makeover by our beauty team. Lindsey wasn't disappointed with the result.
"It was absolutely amazing. The time and attention that was given to me made me feel like a glamour model. When the dust settled, and [the beauty pro] was finished I was absolutely more gorgeous than I have ever been before. I felt like a million dollars."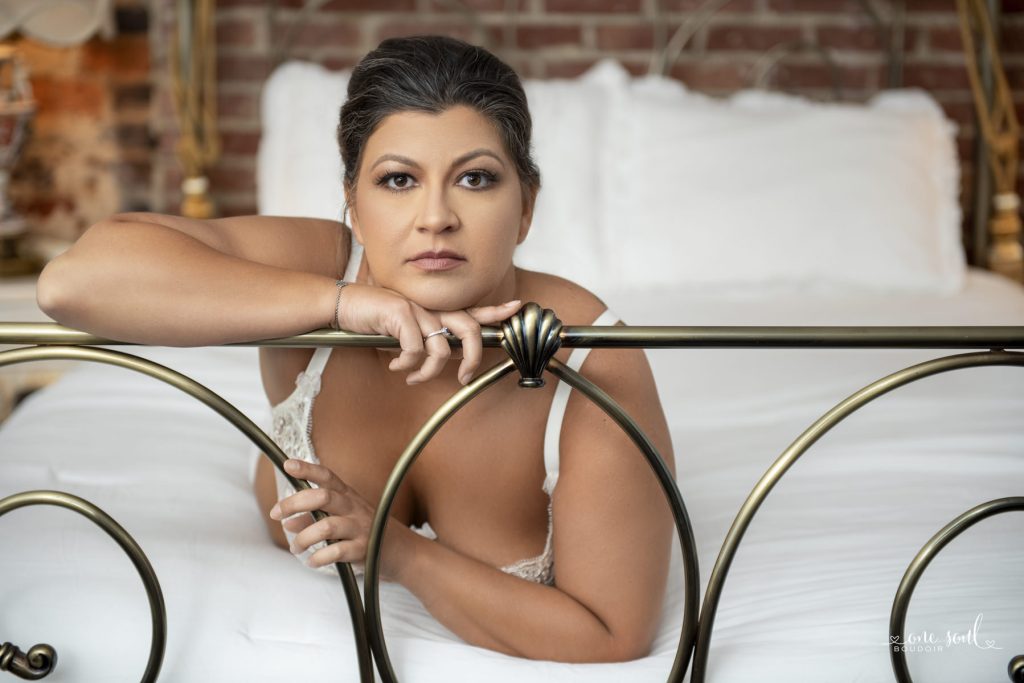 From introductions until hugs good-bye, we work hard not just to create singularly beautiful photos, but to make our boudoir sessions memorable as well.
Lindsey said, "I was relaxed, comfortable, and laughing as if we were longtime friends. The entire shoot was a relaxed, comfortable and amazing experience I never felt pressured, intimidated or insecure."
"Having done several other shoots with other photographers I can honestly say this was the absolute best I have ever experienced. So much so that I am going to convince my man to come do a couple's sessions," Lindsey said. "This was by far the easiest and most rewarding shoot with the highest level of service and attention that anyone could imagine."
And the photos?
"WOW!! I never thought I could be as beautiful and relaxed as what Jill and David saw and captured through their lenses," she said. "I now can see what my boyfriend sees when he looks at me and tells me I'm beautiful."