Promo winner Dana reclaims her self confidence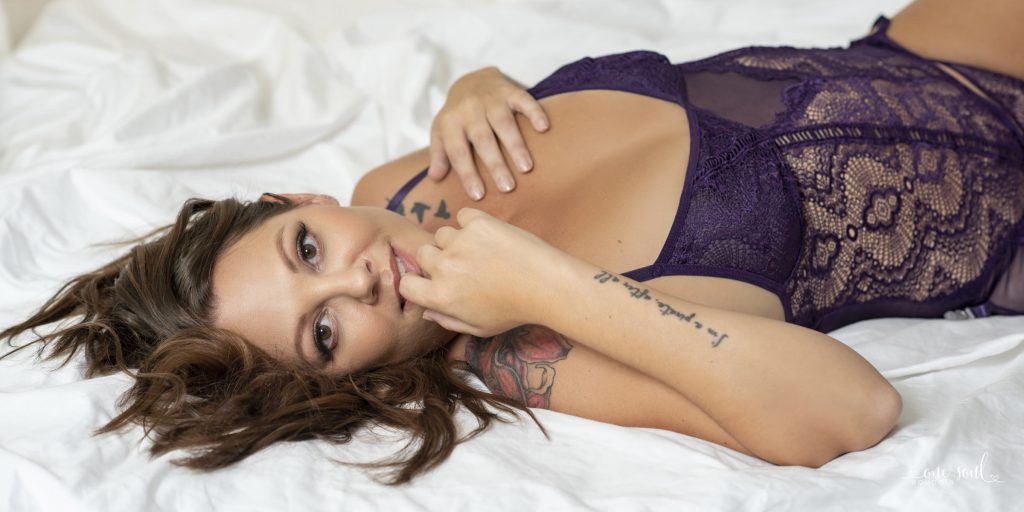 Controlling husband now an ex, Dana blossoms
Fresh out of a bad relationship, 2021 One Soul Boudoir promo winner Dana took a chance on our boudoir giveaway. It was something she wanted for herself for years to reclaim her self confidence. "But," she said, "my very controlling husband would have flipped out."
"He would have wanted to make sure his ideas and rules were followed as well as judging the actual photos to no end. He had taken everything from me mentally and emotionally. I never felt good enough or that I mattered," Dana recalled. "I had lost all the self-confidence that I had in the beginning."
After mustering the courage to leave him, she said, she started working on her recovery.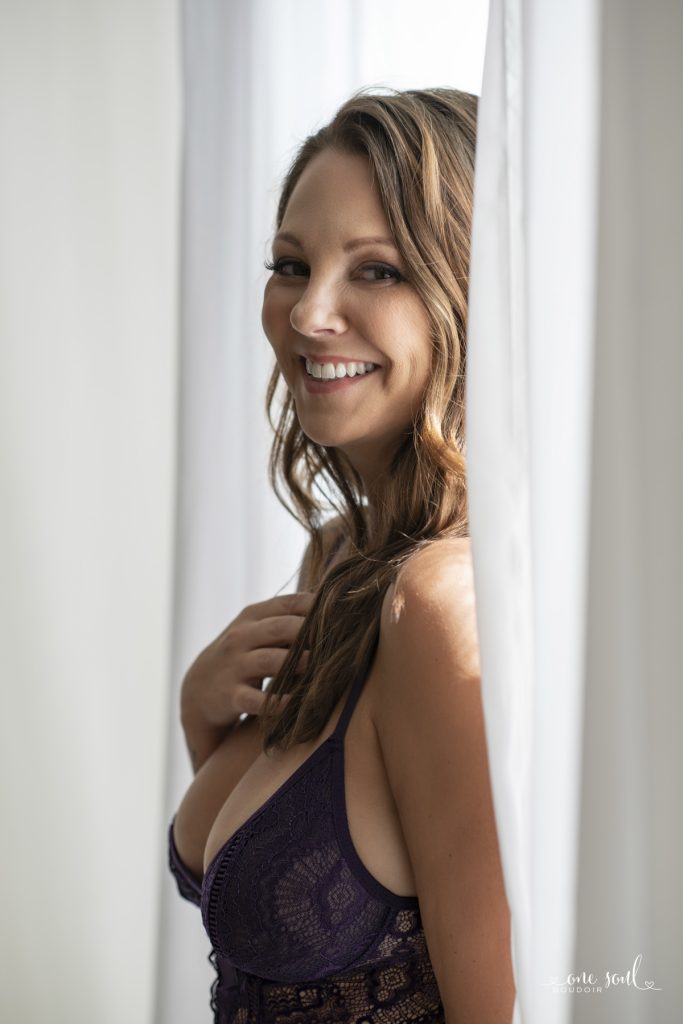 Oh, yes, that desire to do boudoir
"I remembered my desire to do boudoir and was hoping it would help me pull myself out of the shell I had become," she said. "So, I entered a giveaway and was lucky enough to win one of the prizes."
For many of us, when we finally get something that we've wanted desperately, we're never really prepared. Dana was no different when she was told she'd won a complete boudoir experience: "I was a nervous wreck."
On her way to our studio for her session, she said she worried "was I going to be pretty enough? Sexy enough? Would I have the courage to even come out of the changing room? My stomach was in knots — but there was a little bit of excitement that pushed its way through."
"When I came inside I was greeted by the most friendly and welcoming faces. I definitely still felt nervous but [Jill and David] did the best job of having this energy that just made me feel a lot better," Dana recalled. And that was just the greeting.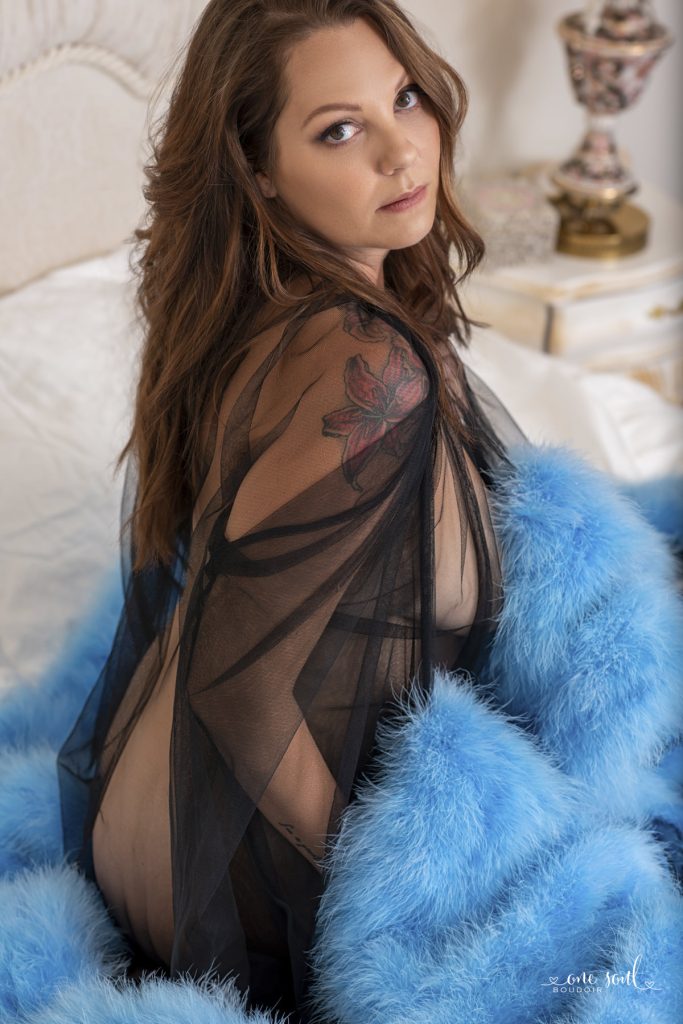 Promo winner Dana: nice to be pampered
Musing about the experience that day, she said, "I had never had my hair and makeup done before. I knew what it looked like on other women and how much it can compliment their natural beauty. It felt really nice to be pampered and be made to feel special. Every step just gave me a little more courage and put my nerves at ease."
About those nerves, she said, "I was extremely nervous until I wasn't. It just flipped once I took the first few pictures. I felt beautiful and sexy, and I trusted Jill and David to show that in the images they were capturing. The experience as a whole was in one word, fun! I loved the wardrobe changes and the different looks/ideas for each pose and position. I just didn't want it to end!"
Alas, it always does, and always too soon. However, the effects last. We call them the "boudoir high."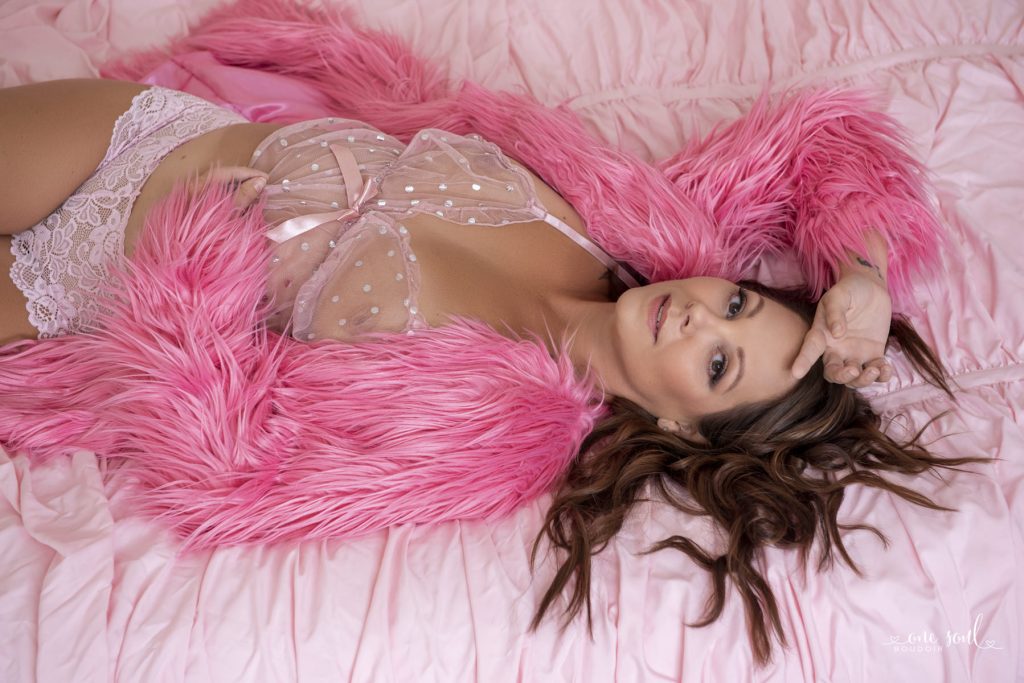 The Boudoir High
"On the way home, I was feeling myself! I was turned on and still floating on a cloud of confidence. I imagined it would be fun and sexy," she recollected. "I thought I would have some pretty pictures of myself. I did not expect to feel so empowered and proud of myself!"
We brought Dana back a few days later to relive her day and see her photos for the first time. She was overwhelmed.
"Let's just say looking at myself has NEVER brought about the emotions I felt when I saw my pictures," she said. "I saw the woman who had been screaming to be let out of the cage she was in. I saw a woman who was confident and wouldn't take anything from anyone."
"I saw ME for the first time in those pics and I have felt more and more like her ever since."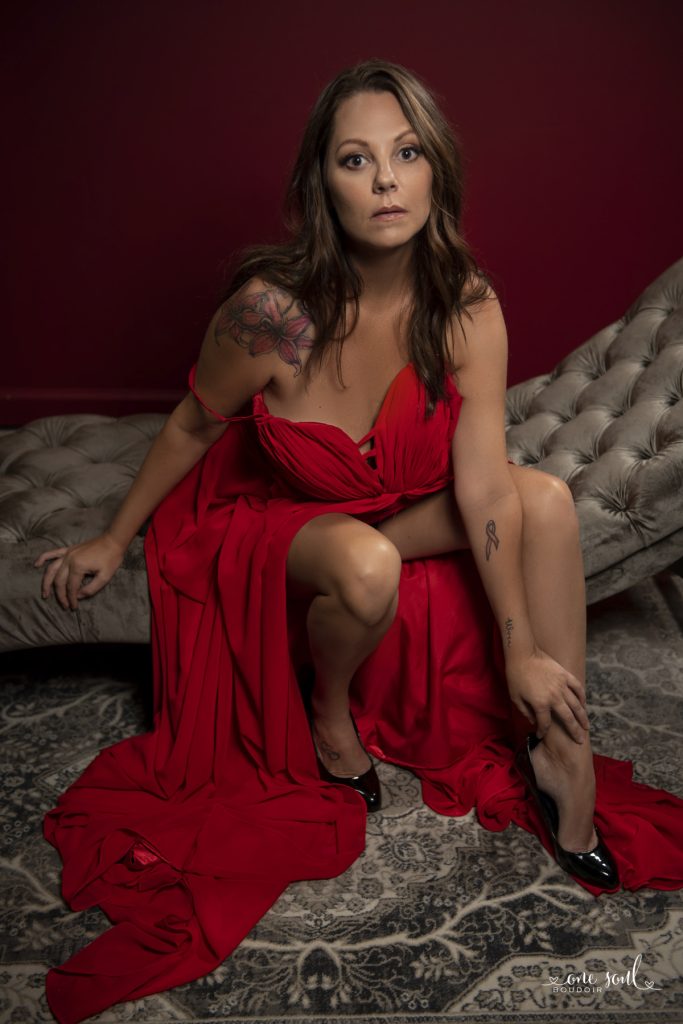 Her advice to you
"Close your eyes and jump in with both feet!" Dana said. "These photos aren't for your man or woman. They're for you! For you to look at and remember how fierce and badass you are!"