Finding beauty after open-heart surgery at 34
This true survivor lived to love herself again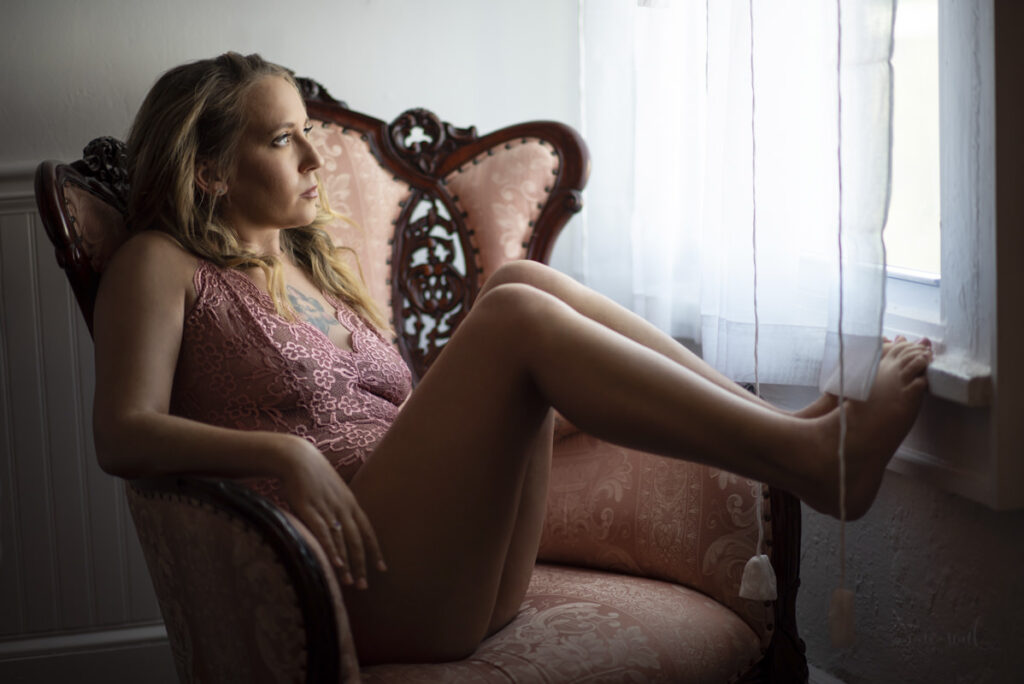 This story, Elizabeth's story, is tough to absorb and truly appreciate. She was 35 when we crossed paths with her during our Fall 2021 Boudoir Giveaway promotion. Just five months prior, she had been forced into open-heart surgery to tackle a congenital birth defect threatening her life.
If you know anyone who's undergone open-heart surgery, you know it's a radical operation. It leaves scars. The recovery medications have their own impacts. And for a woman in our society, the psychological consequences just tear the soul. Elizabeth would tell you it's better than the alternative by only a breath.
Winner's panic
That's where she was, emotionally, when we told her she was one of three winners in the promotion and would receive a full-tilt boudoir session and her favorite image as a canvas print.
Here's where her head was at: "Oh wow, was I nervous. Incredibly nervous. I thought 'this is a waste of time because my body is just butchered and ugly now.' I had some excitement and hope, but more fear, anxiety, and nervousness. My mind was racing and fighting itself to even follow through" and show up for the photo session.
"I was feeling very bad about myself in many ways," she told us. "I felt powerless, ugly with a scar now down the center of my chest, and pretty worthless at merely 35 years old."
She says. Fact is, Elizabeth is beautiful by anyone's standards. We just had to adjust her optics. Her sense of reality.
Safe place
So she made it to the studio. We asked her to tell us about that.
"Before I even walked in, Jill was outside waiting to greet me and an instant calm came over me, like the crash of a wave," she said. "When we went inside and I met David and began the process, every fear and worry had simply disappeared."
"Jill and I talked, laughed, and joked like we were best friends, along with the sweet young lady that was doing my hair and makeup," Elizabeth recalled. "Right then, I knew everything was ok. I felt safe and ready!"
"I have never had my hair and makeup done, so, for me, that was very exciting. I am not sure that I can accurately articulate the feeling afterward: empowered, stunning, and worthy come to mind. But those words don't do justice to what and who I saw staring back at me in the mirror."
After an hour-and-a-half makeup and socializing, Elizabeth was primed for action.
"I was no longer nervous after the crazy banter during hair and makeup, paired with Jill's warm welcome. Something about the energy she gives off is just that of safety and a soul you have always known and loved. I was ready to rumble!"
Let's shoot
That's good. Because our shoots are engaging and immersive. We have five sets to play in. There's lots of creative talk happening, lots of back and forth between us and our client as we guide them into meaningful poses and expressions.
Here are a few from her session.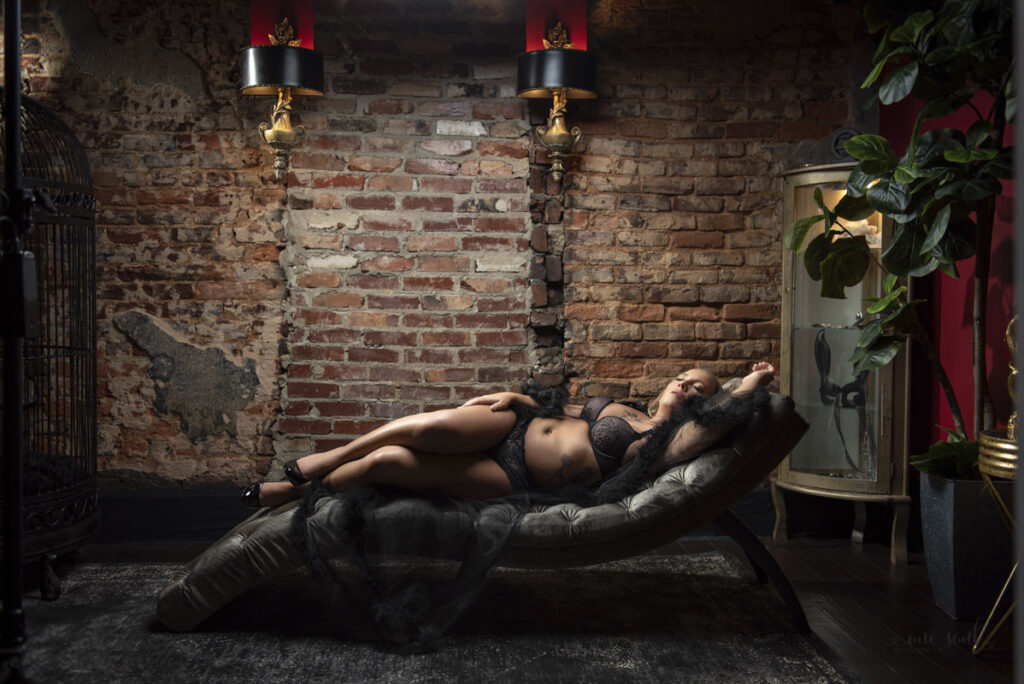 "The whole experience of the shoot was magical," Elizabeth said. "I felt special because it was about me, when my life revolves around me caring for everyone else and getting past my recent open heart surgery that took so much life from me. It was finally about me!"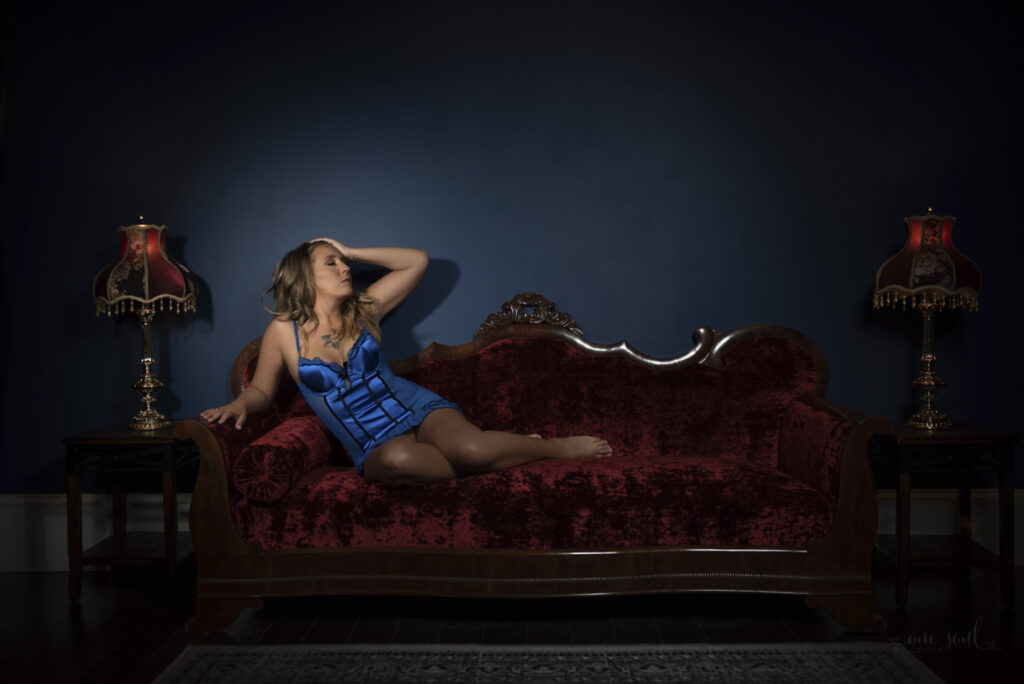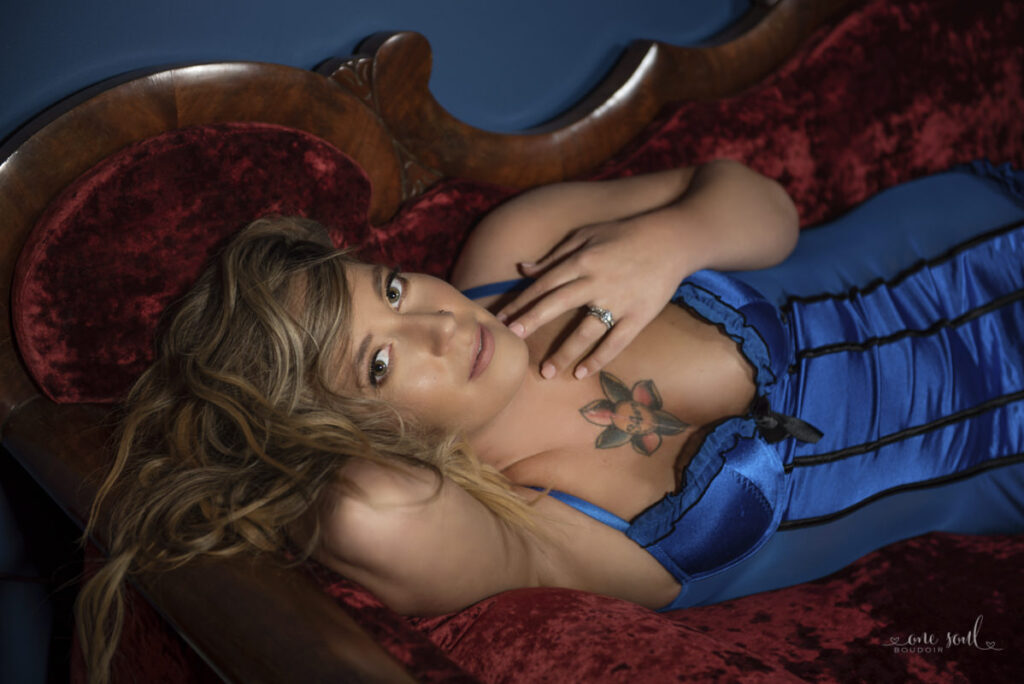 Stamina after open-heart surgery?
And while we typically shoot for two or three hours, there's so much going on, for our clients it's over as quickly as it started. Because our policy is to outlast our clients, we'll ask, "Are there any other photos you'd like to go for?" Sometimes they'll get a second wind and we'll come up with a few more ideas to shoot. Most times, everybody's sated.
For Elizabeth, the shoot flew by, but she was satisfied.
"Since we're being honest, I had imagined I would flake out [and not show up for the shoot]. I also was very afraid that due to still healing from the heart surgery that I would not be able to withstand sitting through hair, makeup, and shoot time," she said.
Surprisingly, she added, "It was so easy to do all of those things, as time just slipped away having fun and enjoying it all. The hardest part was picking outfits and leaving!"
That boudoir high
"All the way home, I was taking selfies because of how beautiful I felt. Not only on the outside, but from the internal and emotional validation that Jill and David provided throughout the shoot," she said. "It was weird getting complements throughout it, as I had never felt worthy before."
"I waited until right before bed to wash my face because I wanted to lap up every second of that feeling. Plus, the way my husband kept looking at me… I could have dealt with that forever. 😁❤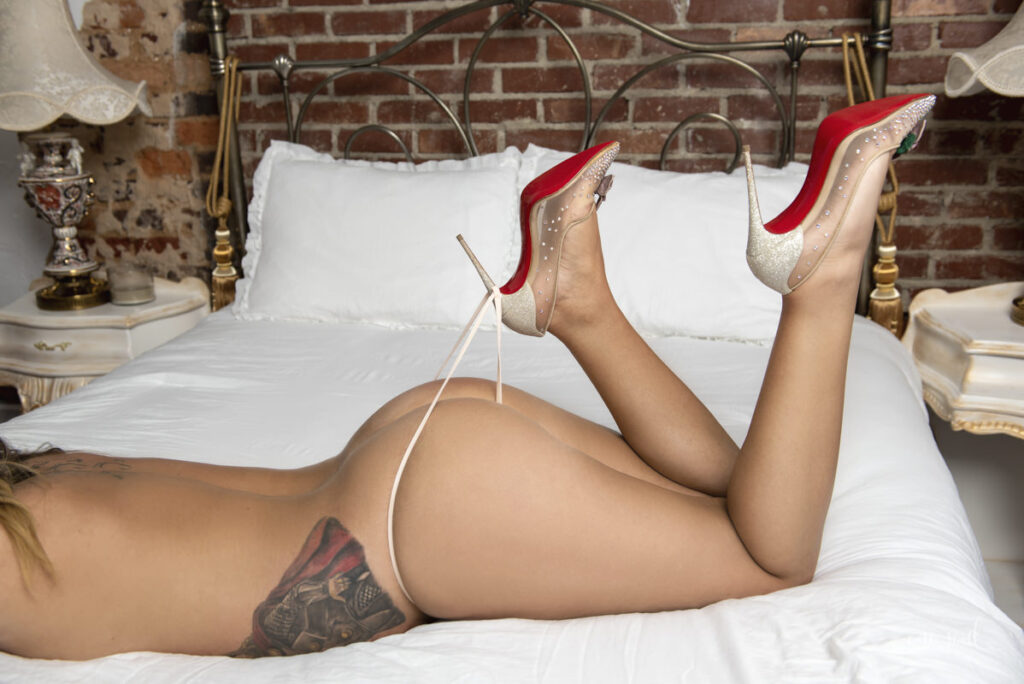 When Elizabeth's reveal date came around, she ready to be underwhelmed. We'll let her explain how it actually turned out:
"You know… you take a selfie, put a filter on it, and go 'well that's pretty!' That's what I expected."
"I couldn't have been more wrong," Elizabeth said. "I never thought I could look so stunningly beautiful as I did in the photos."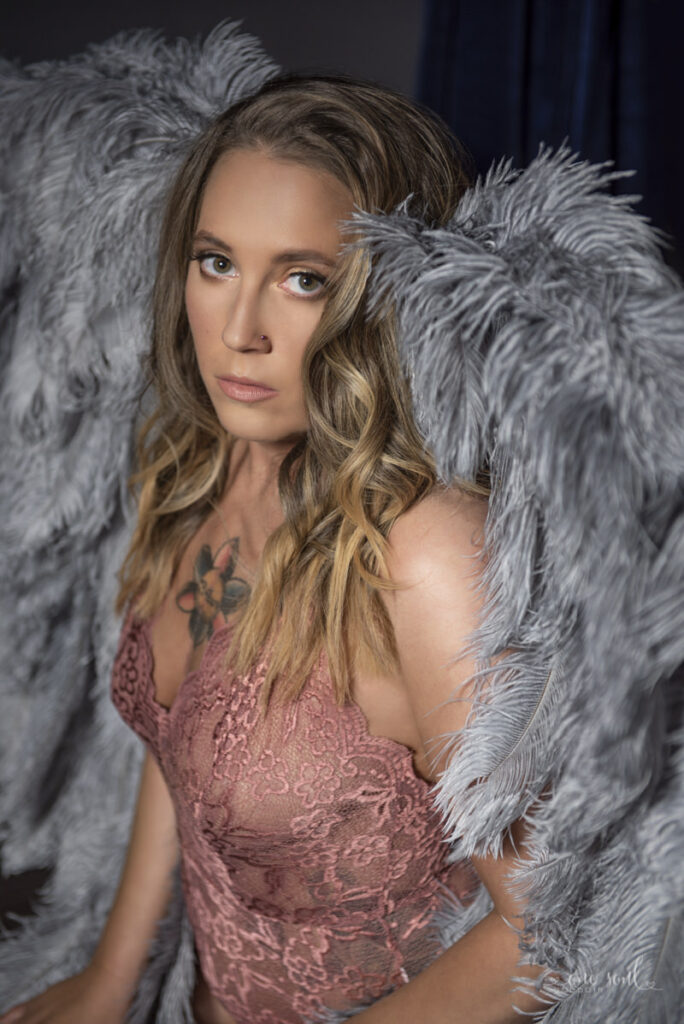 "Those photos will be a constant reminder that I am beautiful and worthy even after all that I have been through." she said. "I can see a story — MY story — in so many of the photos. And a few brought beautiful tears to my eyes."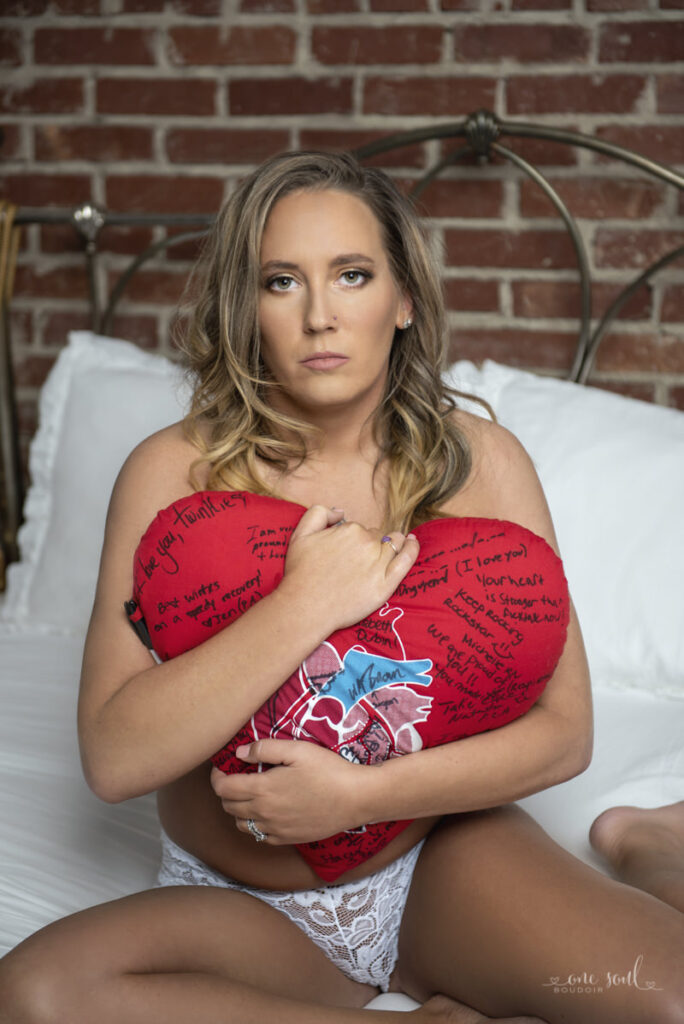 "To now be able to look at that scar and relate it to beauty instead of pain is indescribable. Now I see myself as a very beautiful and incredibly strong survivor with no reason to be sad, angry, or even resentful of the path my life has taken me," Elizabeth said. "If it weren't for my storm I would have never been given this rainbow. I have now become the storm in which provides the rain necessary for all of my beauty to grow!"
Elizabeth's advice
"If there is any investment to make in yourself, it is this. Jill and David are amazing at what they do. They're so kind and make you feel like family. Never an uncomfortable moment. You can see the story and emotion behind the photos and they are of the HIGHEST quality."
"I will never see myself the same as I did. You will not regret this decision. For those getting ready for your session: Enjoy and get so excited. Thank you, Jill and David, for giving me the point of view I desperately needed ❤💙. I ooohhed and ahhhed all the way home."
"For those on the fence: jump across and go for it! You are beautiful and worthy. Whether you believe that now doesn't matter. Let Jill and David show you through their talents. Let them tell your story. Rebuild your love for yourself and everything about you!"