Quiet Taylor wanted to be bold
No light, bright and airy boudoir for her this time!
Taylor came to us with previous boudoir experiences that delivered light, bright and airy photos, which left her wanting to be pushed more, to be bold — and to have a little fun at the same time.
Naturally, she came to the right place!
As with every client, Taylor's day-of experience started with a complete makeover. Many of our clients are at a loss when it comes to makeup, while others want to weigh in. Taylor's in the latter camp, but she just went with where we were taking her.
"I always feel weird with a lot of makeup on, because I rarely wear makeup, and when I do, it's barely more then a BB (beauty balm) cream and some bronzer," Taylor said. "But from experience, I knew that it would turn out great in the photos, so I was excited."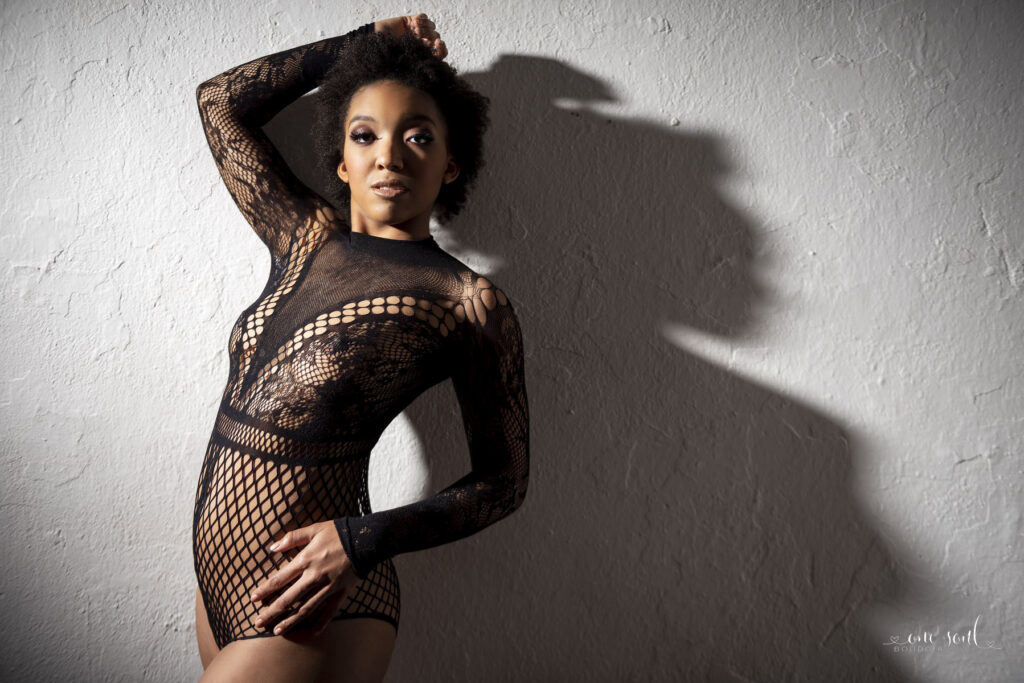 Be bold with a little bad bunny
"I've done a couple of boudoir sessions before, with different feels and vibes to them," she said. "My motivation behind this specific session was to feel sexy and edgy and to do a little cosplay to surprise my boyfriend."
You can't tell from the photos in this post, but we were shooting at midday in a well-lit room. To create the edgy feel she was looking for, we adjusted our camera settings and used our studio lighting to compensate for all the sunlight streaming into our boudoir suite.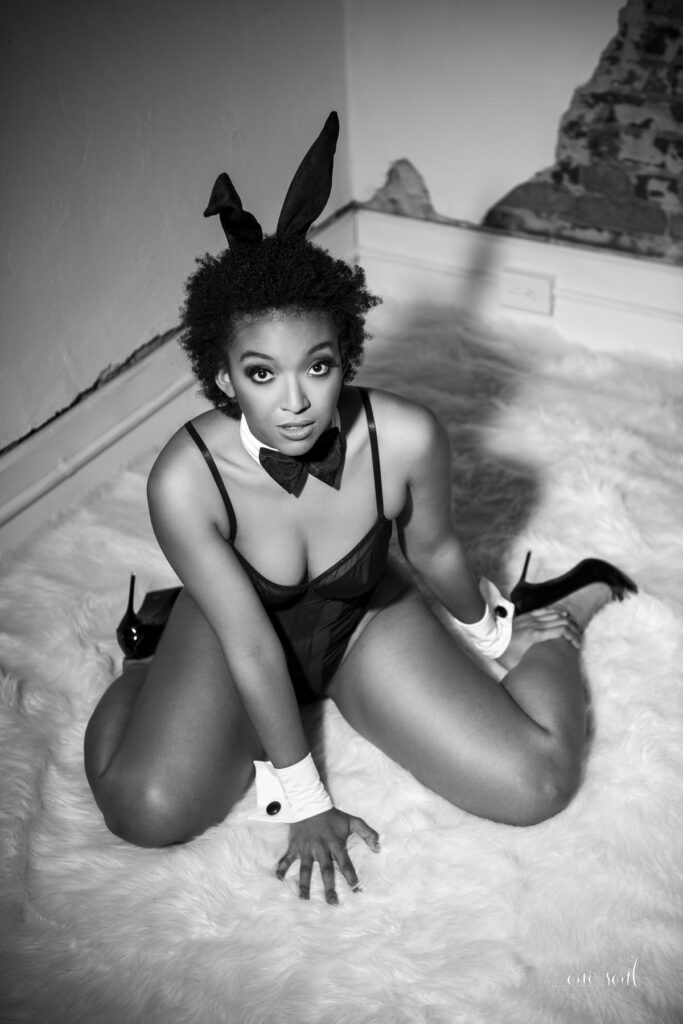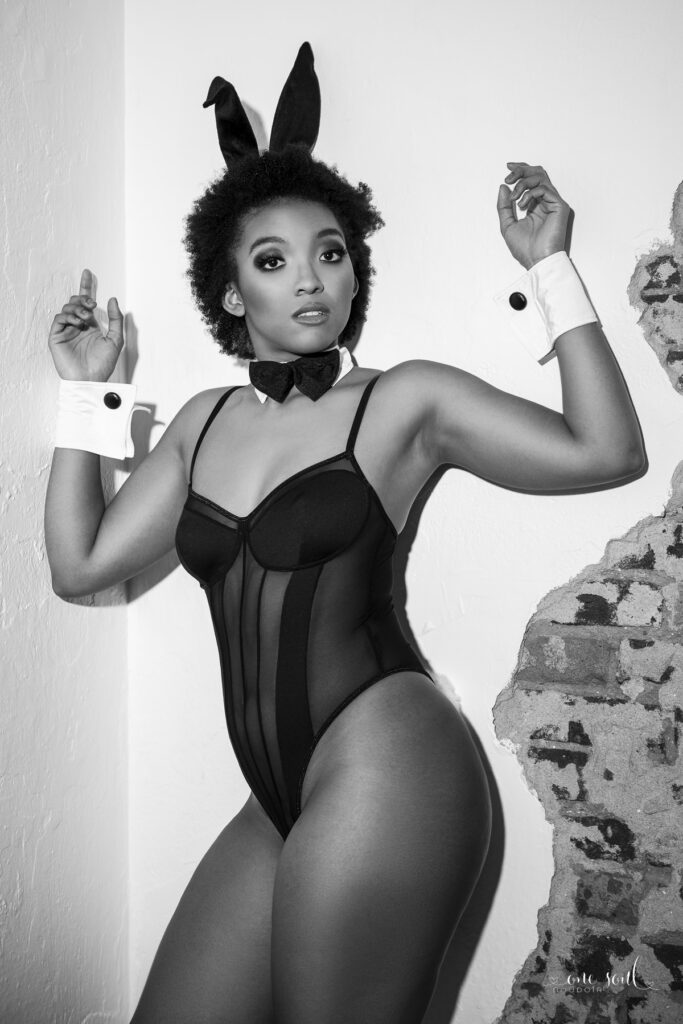 We always show our clients their photos in both color and black-and-white. That's because some photos just beg to be enjoyed in color, while others scream for black-and-white treatment. The drivers in deciding between the two include weighing the importance of color versus texture and contrast in the photo, and whether the pose needs human skin tone to be relatable. Textures and contrasts are enhanced in black and white, where human skin tone is important to completing the emotion conveyed in some photos, such as the one below.
Be bold with emotive photos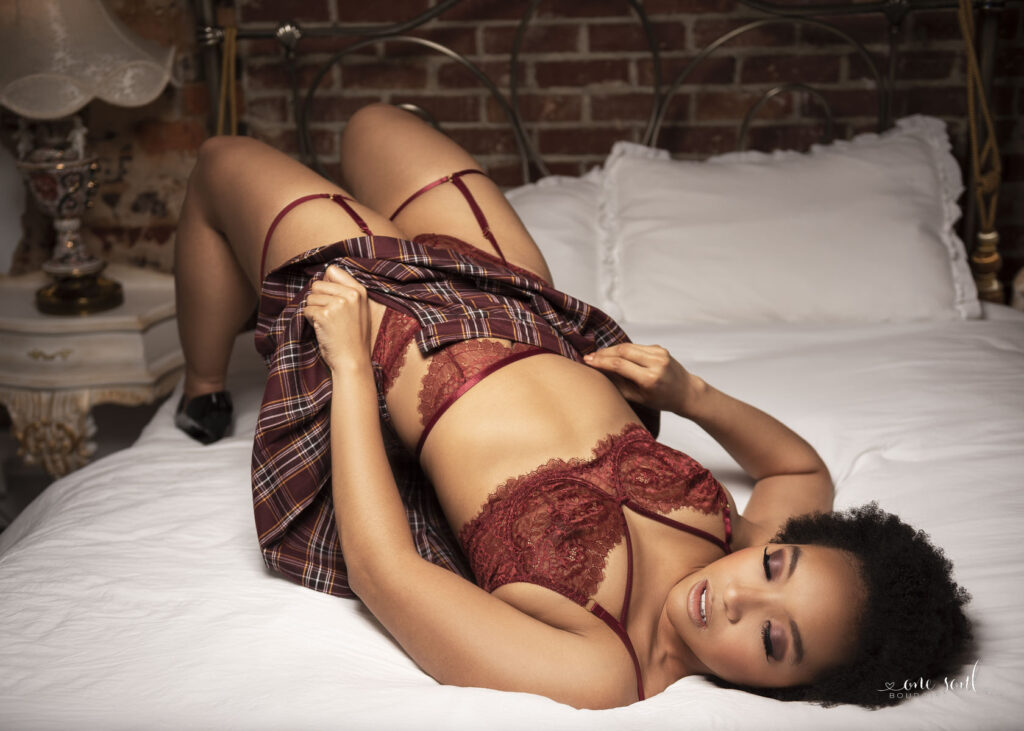 We love creating emotive photos that communicate a sense of passion and reckless abandon. Usually a physical effort because of the contorted poses we go for, they're often the poses that our clients blame for next-day soreness, and almost always the photos they're most surprised by and happy with :)
Body chains and window blinds together make up one of our favorite looks. We love shooting this with a shallow depth of field — meaning an intentionally small portion of the photo is in focus, which draws your attention to that portion.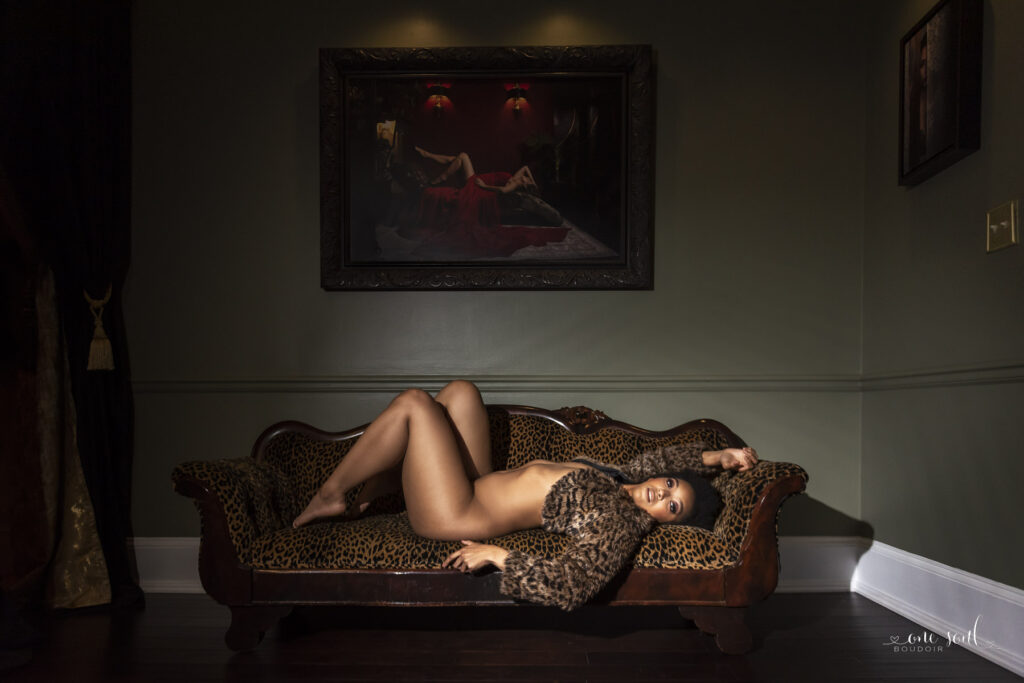 If your shoot ventures into nude photography, which is always an option and never an obligation, we'll tell you that you'll feel more exposed than the photo will show. The most flattering nudes for most clients are the ones that make it obvious that the client is nude — without revealing the goodies.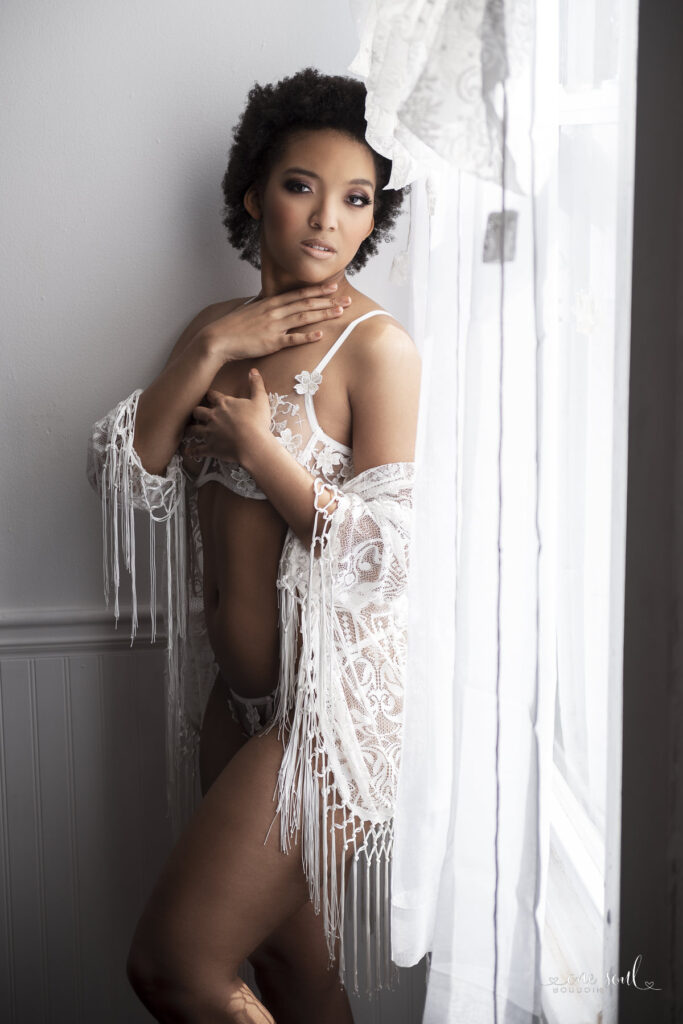 Taylor's advice
"The whole experience was just as I imagined it would be, with a few more outfit changes," she said. "I went in with an open-mind/go-with-the-flow attitude. The photos were awesome! They came out better than I could have even imagined. I definitely felt sexy and alluring just from looking at the photos."
If you're on the fence, Taylor says, "definitely go for it. No need to wait for the 'perfect moment'. I've done three boudoir shoots now, and my body has not been the exact same in any of them but I still love the outcome regardless. It's a fun, thrilling experience."