Rebuilding self worth led Amber to boudoir
The journey began with an ending
"It was a toxic marriage," Amber says, recounting what was to become the beginning of a four-year journey in rebuilding self worth that led Amber to a boudoir photo session.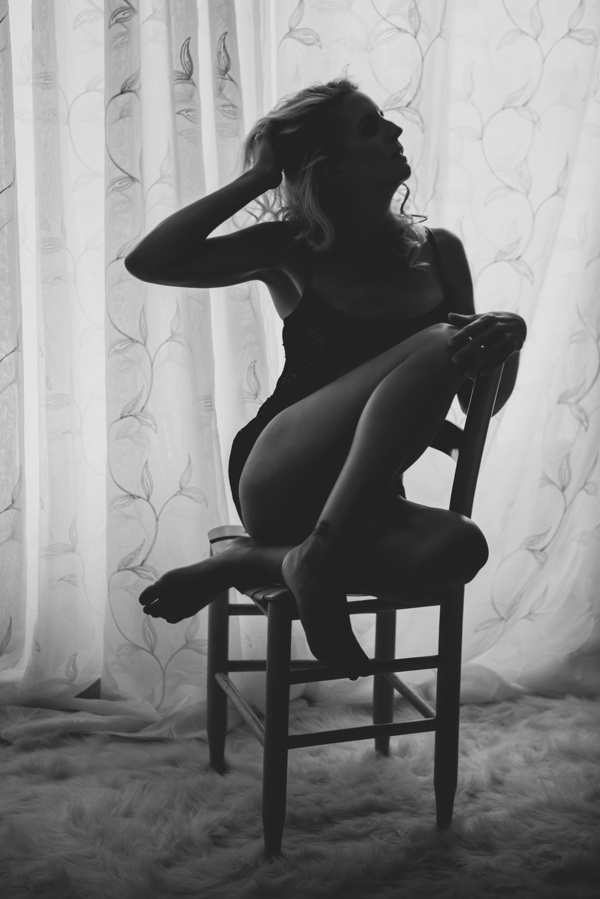 Like most, it began well. Her new husband had even adopted her two young daughters from Amber's first marriage. Amber had every hope she would be able to give her daughters the stable home that she knew they deserved.
Self-worth under attack
But over the next 12 years, her husband became increasingly confrontational. Not physically violent, but it was a controlling, isolating and verbally abusive relationship. Worse, he cut her off from her family and friends as he monitored her activities.
"I was at home or I was at work," she said. "He was constantly cheating on me, constantly talking down to me, telling me nobody else would want me. So, I put up with it."
PSA: as HerNorm.com blogger Sonya Schwartz points out, if your partner makes you feel guilty for having a social circle, having an opinion, or even a family, these are controlling behaviors. Here are some reads from her blog and other sites about toxic relationships and women's health:
HerNorm.com: Controlling husbands: 12 signs
Psychology Today: What is Rejection Sensitive Dysphoria?
ReGain Online Counseling: What to do when you have a controlling husband
She knew she had to act when she saw that the caustic atmosphere at home was affecting her daughters. Making the difficult decision to leave in 2016, she said she found the road to rebuilding self-worth hard from the outset.
After the decision to leave
Hailey and Ashleigh are now 18 and 21, respectively, and away at college, but at the time, they were at home and supportive of her mother's decision to leave. Amber says they made the difference as she worked through her sense of loss and uncertainty about the future.
"I went through a few weeks of crying depression, of 'how am I going to do this?'" Amber recounted.
"My daughters were the biggest help for getting me through. They would leave me little notes saying things like 'You are worth it.' The girls really brought me around."
Her daughters gave her the wherewithal to stand on her own, and while she was indeed free now, the marriage had battered her self-confidence.
"I'd lost my self-worth. I didn't feel I was beautiful," she said.
Rebuilding self worth is hard
Add to that, she had to shoulder responsibilities alone. Amber took on as a many as four jobs at a time to make ends meet. Life wasn't easy.
Thankfully for Amber's state of mind, the grind of timecards and punch clocks made it easy to forego makeup and clothes shopping, and long hours helped her avoid serious relationships.
Amber did build a co-ed circle of friends, mostly coworkers. But when she went out with them, she didn't bother dressing up.
"I didn't want to be looked at. I didn't love myself, and I didn't like anything about me anymore."
Of course, just as 2020 did for so many others, the year brought about big changes for her.
First, her youngest daughter Hailey was preparing to strike out on her own as her eldest Ashleigh had done a couple of years earlier. With Hailey eying college in Tampa, where most of Amber's family still resides, Amber entertained moving there as well.
She didn't relish the idea of rural Tennessee on her own. That is, until the Coronavirus pandemic began raging out of control in the Sunshine State.
"I felt safer in the country than in the city with COVID," she said.
Turning 40
As all this was playing out, Amber reached a difficult milestone in any woman's life: turning 40.
"That was a big hurdle," she said, recalling how that birthday made her feel like "nobody's going to find me attractive now."
That's when a friend in Georgia told her about a boudoir photo session she'd done with One Soul Boudoir and how much the boudoir photography experience boosted her self-esteem. She called it life-changing.
The boudoir photo session
Amber came for an in-person consultation, during which she stressed how badly she needed to see beauty in herself. And the self-confidence to start living life fully.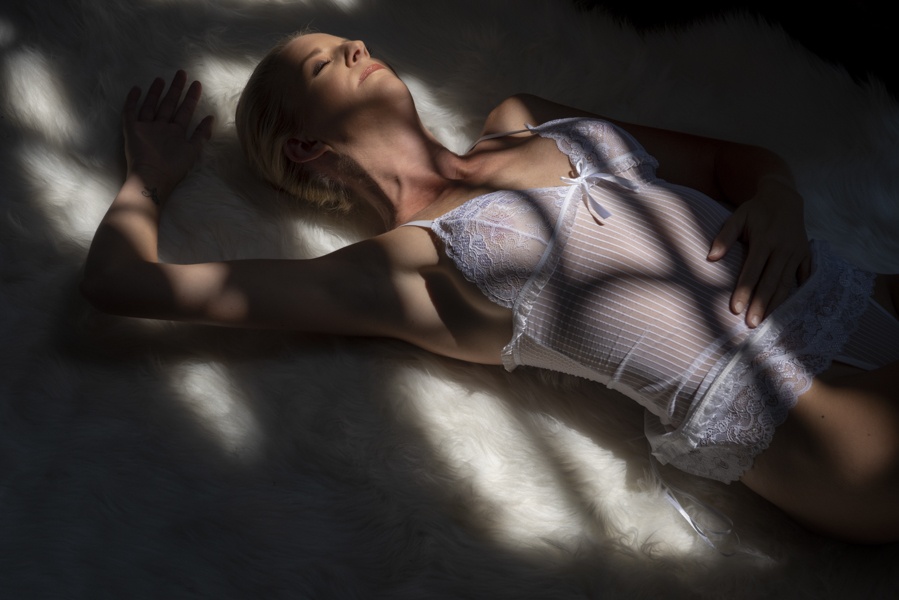 Amber placed only one limitation on her session: she wouldn't allow her insecurities to say, "No" to any shot. Knowing One Soul Boudoir captures clients elegantly whether they're clothed or nude, she said she felt safe in making that commitment.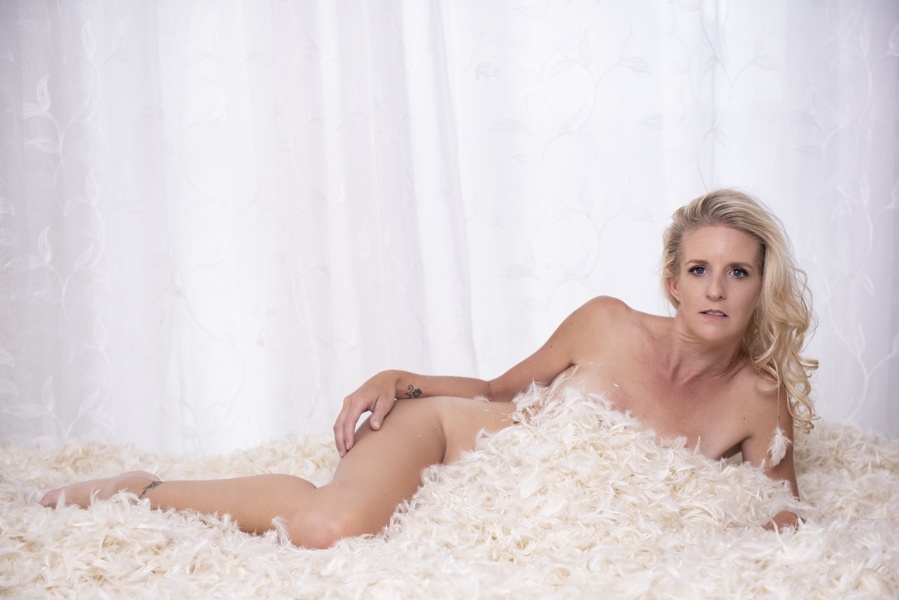 Of course, all Amber's photos turned out fabulously, but "taking those few naked shots, when I was able to do that and be okay afterwards, that's what really boosted my self-esteem," she said. "Now I realize that I am still sexy. Even though I'm 40, I don't feel it."
"It made me happy with myself again," she said. "Just those few hours of letting it all out just turned around everything that I felt about myself."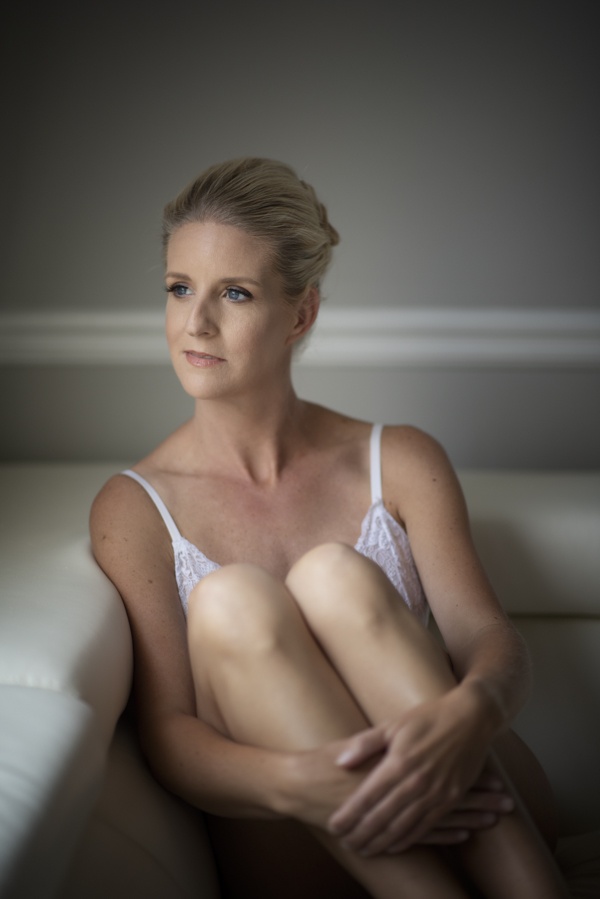 Brighter days already
The shot of confidence that boudoir gave Amber has made a big difference in her life. She's finally moving to Florida in Summer 2021, and she's confident she'll fit in; confidence is already a part of the new Amber in Tennessee.
"I've gotten new clothing. I do my hair and makeup, I don't shut everybody out, and I'm going out more with people. I would never wear short skirts. Now I feel comfortable in that stuff."
Similarly, she's standing taller in the workplace. She's no longer afraid to call someone out when they're speaking down to her: "Before, I would let [male] bosses say whatever to me. Now I do stand up for myself a lot more."
Her daughters support her
Even so, perhaps the best part of Amber's story is that her daughters appreciate that she's done something like a boudoir session for herself, despite it being difficult to see a parent as a sexual creature.
"I worried they would be embarrassed," she recalled, but Hailey told her, "Mom those [photos] are absolutely beautiful."
"She was proud of me for finally doing something that was outside of my box," Amber said. "It's an excellent feeling to know your kids are happy with something you're doing."
Next, meet Carolyn.