Beth's a supermodel mom for a minute!
And she learns she's a force du jour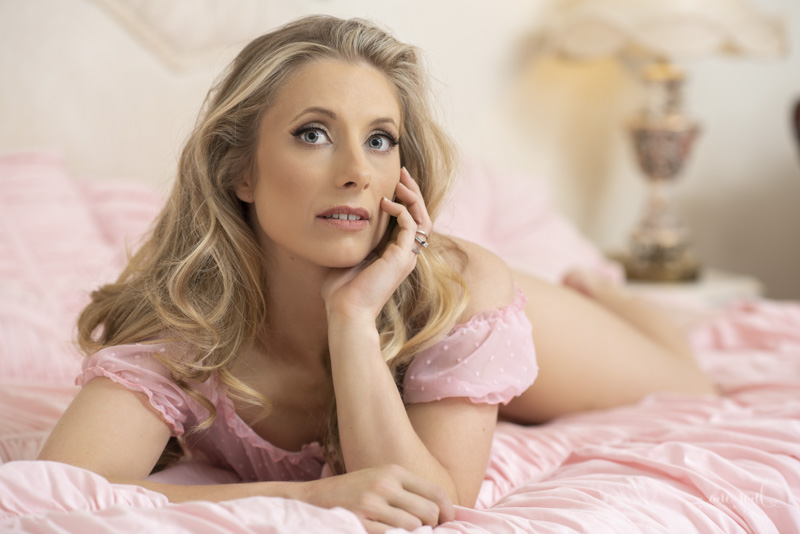 Force du jour: Good hearts sometimes have to shout
We met Beth through a One Soul Boudoir promotion. To us, she a supermodel mom. To those in her tribe, she's a classic, classy southern woman: polite, gracious, light-hearted and devoted to family. All great characteristics to the people who depend on you. But sometimes those amazing traits put you at risk of being taken for granted, not listened to, not taken seriously. And when you're in a place like that long enough, it's easy to lose yourself. In short, good hearts sometimes have to shout to be acknowledged.
Beth, of course, isn't the sort to stay lost or muffled. Not long ago, she decided she wanted some validation. She wanted a broader purpose in life than homemaker-mom-wife. She wanted those titles, yes — and a career. She began working on a real estate license and will be passing her licensing exam soon. She has the chops for it: natural sales skills, dedication, and ambition.
Mom plus career plus sexy = supermodel mom
But she also realized that she needed more than professional validation to be fulfilled as a woman. She needed mom plus career plus sexy! She considers herself a classy woman. But she needed to know that she's also a sexy woman: desirable and worthy of appreciation — two all-too-common casualties of motherhood. Life just happens. Practical priorities take charge, and the soft skills and the romance inherent in femininity get less attention than they deserve.
Working through her feelings about all that, Beth realized that reconnecting with her feminine self had to start with her. She had to learn to see herself as desirable and worthy of appreciation. If she could do that, then it would be easier to expect the same from those around her.
"After having three children, I think part of me wanted to show my husband that I'm still a woman and not just a household cleaning machine haha, and the other part of me needing to prove that to myself as well," she said.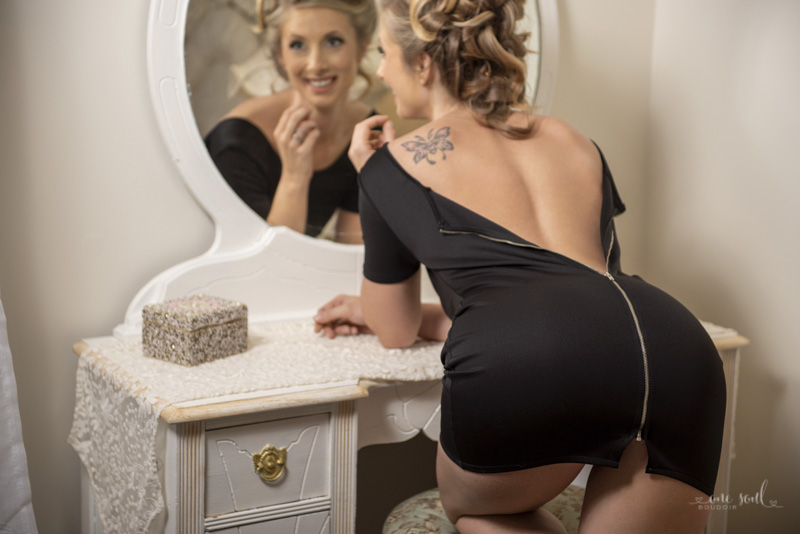 The One Soul Boudoir promotion
As serendipity would have it, that's when the One Soul Boudoir promotion popped up on her Facebook timeline. And that's when she threw her name into the hat.
The thing is, she didn't expect to win. So when we announced winners in our ladies-only Facebook group One Soul Women, Beth had to replay the streamed video to be sure she heard right. Beth went from shocked to excited to nervous in an instant.
"Boudoir was completely new territory for me and I had no idea what I would be doing or wearing or if I could even pull any of it off! I thought for sure I would either laugh or look terrified in my photos," she recalled. "I have never felt very powerful or sexy at all. I have spent a lifetime picking myself apart and being very insecure and self-conscious of my body."
Life begins at the end of your comfort zone
You've heard that, right? That life begins at the end of your comfort zone? Well, being an hour-and-a-half apart, we did Beth's consultation via Zoom, and that's when the outrageousness of doing a boudoir shoot sunk in for her. It was so far outside her comfort zone, she brought her sister along for a courage boost. On the way to the studio, she was filled with "so much anxiety lol".
"I had to drive a little over an hour to get there and, of course, I had to bring my sister on such a road trip and experience. We just laughed and speculated about what the possibilities could be waiting for me! I had no idea what I was in for, to be completely honest!"
"It was way beyond anything I could have ever expected. I literally felt like a supermodel. As soon as we arrived we were greeted with mimosas and hair and makeup. Having never had my hair or makeup done before, that alone was a memorable experience. I felt so regal and beautiful afterwards."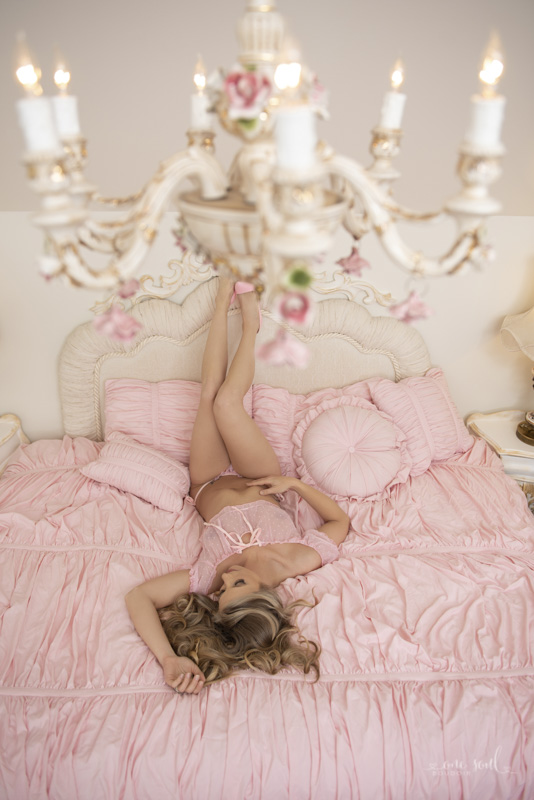 "The [beauty team] girls and I were discussing my shoot, and they were telling me how much I would truly love doing this. And they were all oh so correct!"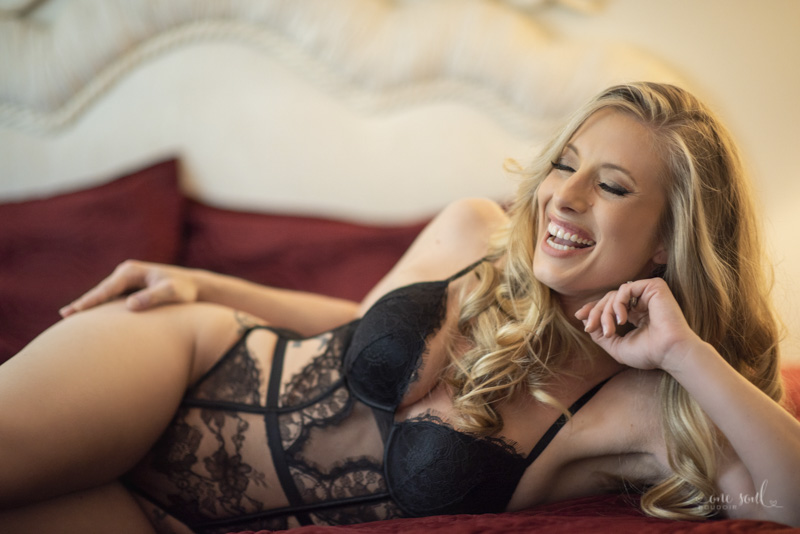 "Jill and I had so much fun planning my wardrobe. She included my and my sister's ideas on everything and had the BEST ideas of her own. She totally guided me and made me feel totally comfortable in every single thing I put on and every pose we shot."
Highlights for Beth were getting that first-ever professional makeover, and working up the courage to shoot in our edgy, Fifty Shades-inspired Red Room set.
"Oh my goodness, that room! It definitely brought out the powerful side of me that I never knew existed. Going into this I was mostly nervous about that room, because that is just not typically my everyday style or personality at all," she recalled. "But that definitely ended up being one of my favorite highlights as well."
When it was all over, Beth said, "I seriously could not wait for reveal day."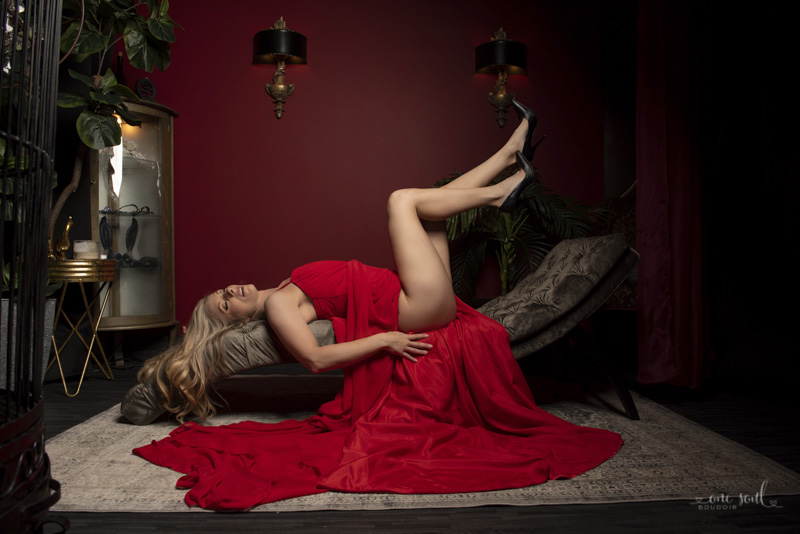 A powerful, confident, and capable woman
"That was another awesome day where I really feel like it was the pinnacle moment of a new me," she recalled. "I'm anxiously starting a new career in real estate, and, after seeing those photos, I feel like a strong, powerful, confident, and capable woman. And that's exactly how I want to feel every day of my life in my career and at home when I look in the mirror."
Looking back, Beth said, "I learned so much about myself. I gained so much self-confidence. This gave me something I didn't know I needed, and that was the ability to love myself and the ability to remind others that I needed to be loved as well."
What's Beth's message to you?
"DO IT!! You will thank yourself and be so glad that you did it, once all is said and done. Your 70- and 80-year-old self will thank you, too," She said. "Do this so that you can look back and remember how awesome and confident you are, anytime you're struggling. This is the best thing I've ever done!"