Choose the best colors for boudoir looks
Do you have a favorite color? One that you think looks best on you? What about a one for feeling extra sexy? Well, those are all great questions to answer for yourself, because the best colors for boudoir lingerie looks usually start with what works for you. We'll explore just what that means.
A note about lingerie
As an aside, if you're not one for pretty underthings, boudoir is a great first-hand exposure to what lingerie will do for your morale. You can read about these benefits of treating yourself to lingerie.
Back to the business at hand: color. When you're making your boudoir wardrobe decisions, keep some basic color rules in mind. As you do, keep in mind too that that they're meant to be broken when there's good reason.
Our rules: best colors for boudoir
1. Colors and body type
Dark colors
Let's start, for example, with warm dark colors. When we think about them on their own, we think of strength and confidence. But then you introduce a person into the mix and, suddenly, body type adds inflection to the message.
With curves
So when we have a curvy woman with fair skin and raven hair wearing burgundy lipstick and lingerie on black satin, the image evokes luxuriousness now. Strength and confidence are still in the message, but the richness of the image is what grabs our attention most.
With sharper features
Replace her with a slender woman with chiseled facial features and you might now think of intimidating. Give her platinum blonde hair, and suddenly she's not just intimidating and strong, but cold. Body type, hair, and the hues we overlay all matter to the message.
Pastels
Pastels almost universally radiate femininity, vulnerability and tenderness. Even (feigned) innocence. You might say pastels are the international language of cuddles and kisses.
If you want approachability, keep your lips softly hued and your wardrobe the same. Pinks, creams, and blues make great, sexy boudoir colors.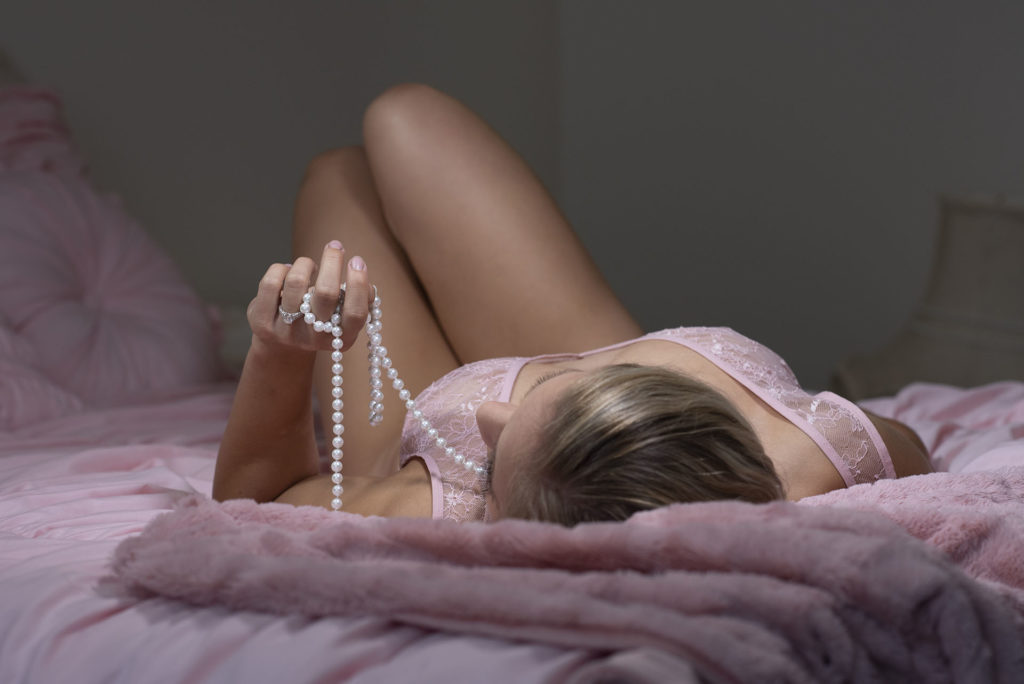 Bright colors
Close cousins in message to dark colors, bright colors speak loudly and are quick to clash with or overpower their surroundings. So we rarely encourage them in our sessions. But like all rules, this can be broken. For a Christmas or Valentine's Day theme, go for a bright red teddy, red nail polish and red lipstick for a spot-on, sexy holiday look.
If you're looking to highlight your smile, or your breasts or curves or legs, then bright colors will district the viewer from the bits you wanted to showcase.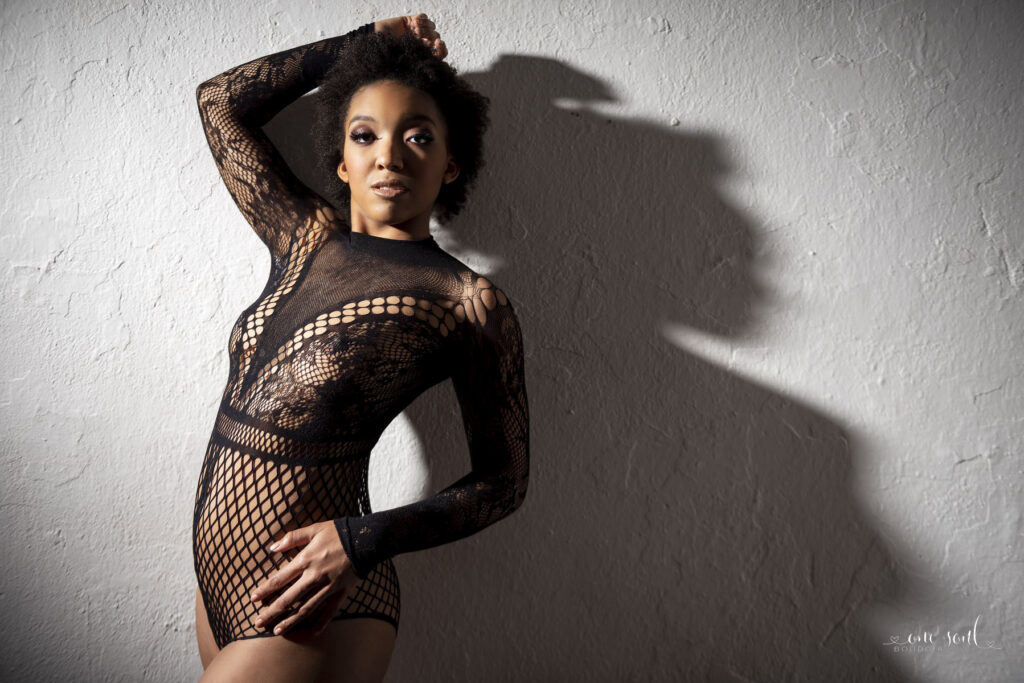 Black
Black is tough. In street clothes, black's what you wear when you want to look smaller. In boudoir, posing is our tool for that. We can highlight our clients' best features no matter what color they're wearing.
So going for black in boudoir has pros and cons. The right black lingerie can make a photo sexy. It needs to provide moderate to little coverage, and it needs to be lacy or gauzy.
You see, the risk is that too much black fabric absorbs light like crazy, losing lacy details and creating boxy featureless areas that just aren't flattering. Too little black, and you end up with distracting little triangles in your photo that catch the viewer's eye when they should be appreciating your eyes, smile, curves, and legs.
So, to black we say, bring a couple of items, sure. But bring colors, too.
White
White, as we all know, evokes all the clean-and-pure words. What's not to like about that? In street clothes, it flatters medium to slender builds, but in boudoir, white works on anybody's body.
You just can't go wrong with white lace for at least one option. There's so much unsullied beauty to be celebrated in white satin, lace and tulle.
All this is to say, don't forget your white lingerie.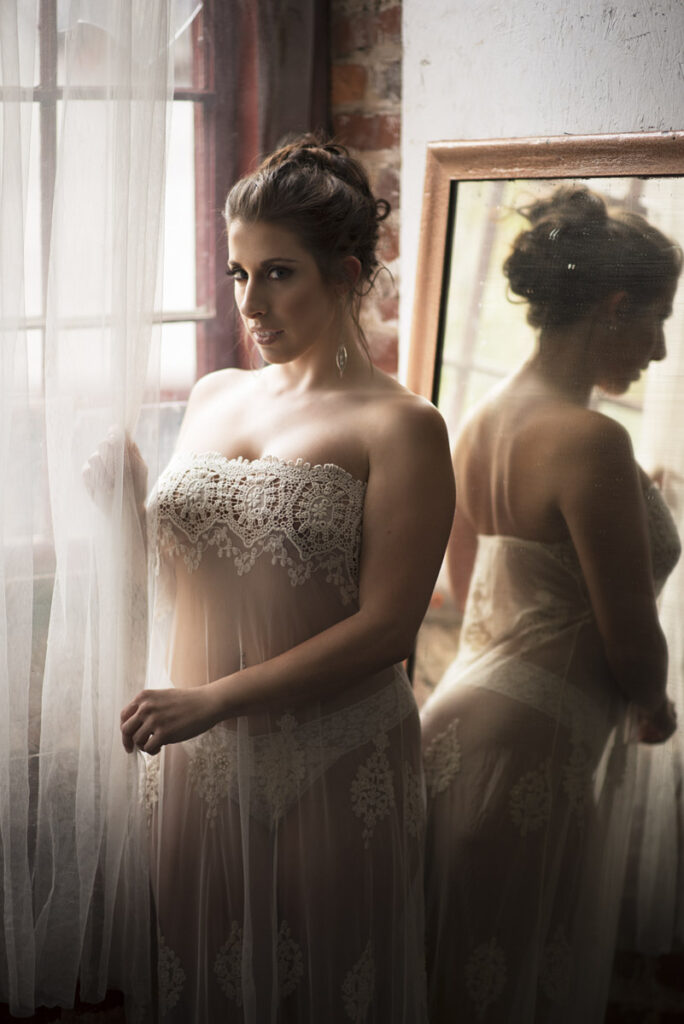 Best colors for boudoir messages you want to send
I'm wicked and I want you
Dark, bold colors or black in your makeup and outfit will back this up. Think black and crimson or dark red, with lipstick to match the red you go with. Avoid black lipstick, except for goth cosplay and Halloween.
I can definitely do sexy
Rich colors (but not too dark) say this best. Satin in purple or royal blue are great examples that will draw attention to your face and skin. Pair these colors with a neutral gloss lipstick and clear nails. Anything else on your lips and fingertips will look busy and will distract from your beauty.
I love feeling pretty. Don't you just want to touch me?
To speak the language of pure sexiness, try lacy underthings that are a couple of shades lighter than your skin. For darker skin, try a medium brown bralette and panties. If you're mocha, then light beige. If you're fair-skinned, then go with white lace. Lipstick should have a slight color and be slightly lighter in tone than your skin. So for dark skin, try bronze lipstick. For mocha, light mocha or beige. For white skin, pink. And in every case, keep the lipstick color soft.
Look, but don't touch.
Nothing says, "stay away," more clearly than pairing any wardrobe selection with dark lipstick and strong contours. Except maybe a gun. And that's why we tend to avoid heavy makeup and dark lipstick. Boudoir is all about revealing your beauty — not erecting a No Trespassing sign in front of it 🙂
I'm Daddy's girl
Nothing purrs like pastel pinks and blues in a soft weave. They just cry out, "Hug me! Squeeze me! Give me kisses!" If you're following a color theme, then with pink, finish your lips and nails in the same shade of pink or a little lighter. With blue, go with nails in a lighter shade of blue and go with nothing but moisturizer — or maybe clear gloss — on your lips. If you're just opting for pink or blue lingerie without getting to orchestrated, stick with clear polish and glossed lips.