Looking fresh for boudoir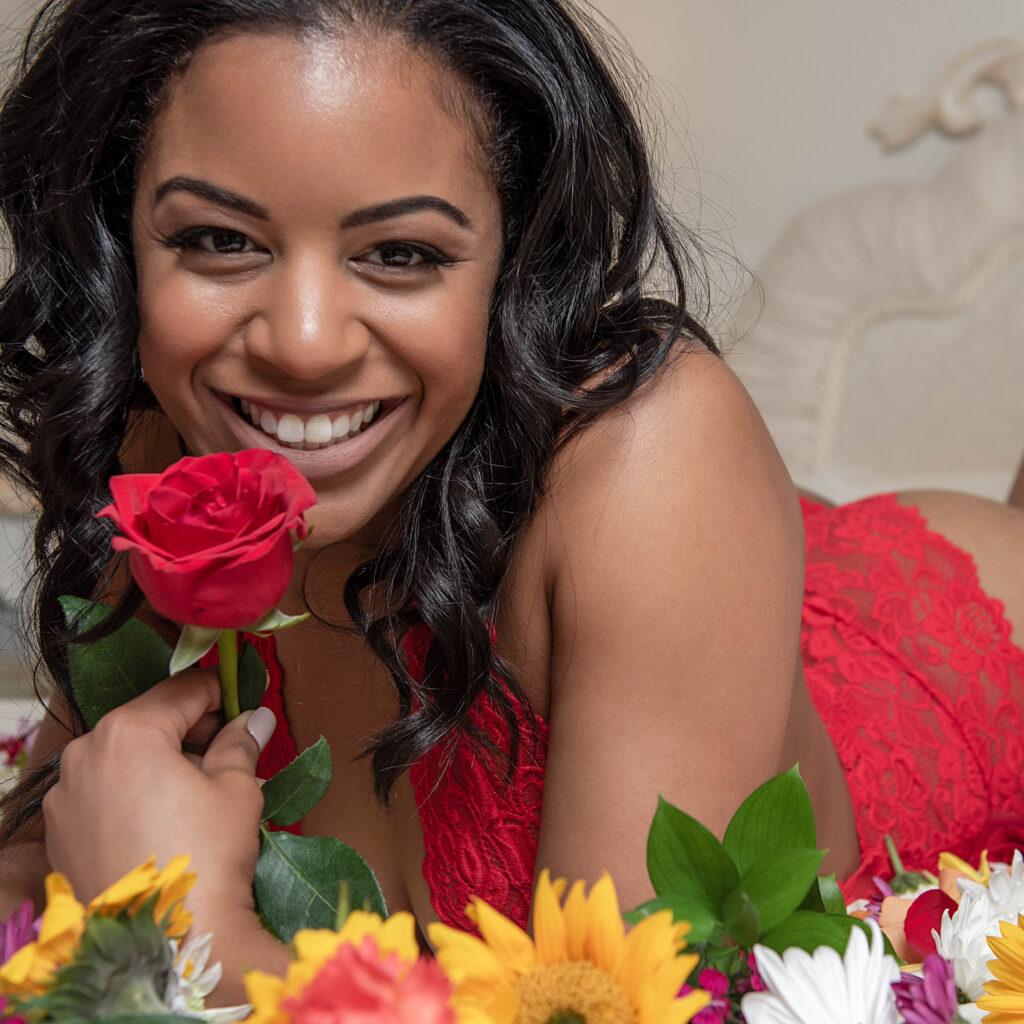 With a gulp, you've booked your first boudoir session. And now, you're waffling over what to do to look your best.
But wait, don't worry! Looking fresh for boudoir is easy! And fun!
To break it down, here are my tips to help you make some great planning decisions.
Mental preparations for boudoir
This is the sexy stuff you can work into your lifestyle weeks before your boudoir session. Of course, the longer you're at them before your date with me, the more benefit you'll derive.
A little fitness for looking fresh
That said, it doesn't matter whether you're a practicing gym rat or have never touched a weight. Just commit to a light daily routine. That means you can walk 20 minutes a day or you can run 45. Whatever you're doing that you weren't before is a big plus. So just upping your activity is your goal. That's because we aren't really trying so much to transform your body as we're transforming your mindset. Naturally, being more active will increase your endorphins. And that's great for boudoir — and other fun bedroom stuff!
Tweak what you eat for better boudoir
Whatever you do, don't crash-diet. Rather, just eat a little better. You know, less salt, lighter meals, more water, and fewer drinks (other than champagne, the diet drink of the French)! Of course, if you're an overachiever, you can replace rice, pasta and potatoes and with green vegetables. But honestly, you needn't lose a pound to simply feel healthier. And when you're feeling healthy, it's easy to feel sexy, says life coach Meli!
Pamper yourself
On to general pampering, you're worth an occasional trip to the nail salon, if not the spa. Every woman is. But let's face it: we just don't take care of ourselves that way. Am I right? So often we just put ourselves last, and all those wonderful experiences hang out there like a bucket list we'll never get to. So since you're in for a boudoir session, be all in, and get those nails done. Not to be manicured, but to feel manicured. It's a special feeling that nurtures a healthy self-image!
Boudoir hair, makeup, lips, nails and skin
This is mostly what'll happen after you arrive for your session, except for the bit about nails and skin.
Boudoir hair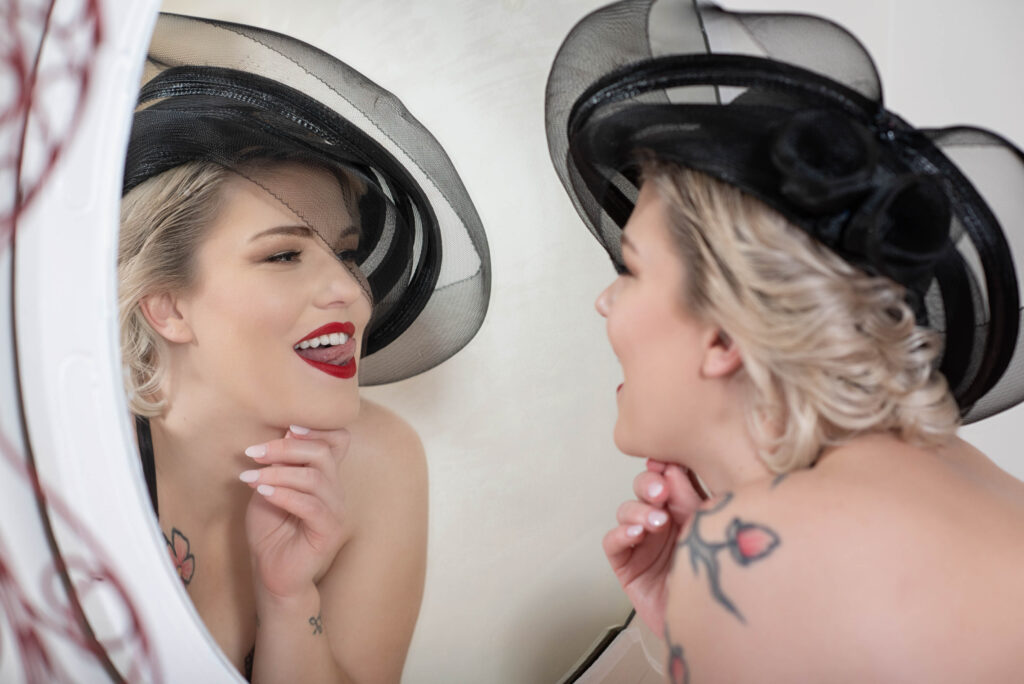 Remember, the term boudoir is French for bedroom.
So on the day of your shoot, I'm going to recommend you have our stylist give you a slightly messy, loose updo to create an air of uninhibitedness.
Big hair and carefully curled locks get glammy fast. And tight buns and ponytails look uptight. Keep it relaxed.
Makeup
Left to their own devices, and in their desire to look beautiful, many of my clients ask the makeup artist for heavier foundation and eye treatment than might be needed. So I get involved in that initial discussion, and I encourage them to keep the foundation light and the contouring visible but moderate, while taking the eyeliner and mascara to the dramatic. The camera loves this combination. When choosing lipstick color: I prefer that you go with bright red if we're dressing you in red or black lingerie, or go with soft pinks or neutral glosses if we're dressing you in white or pastel lingerie. I discourage dark lipstick colors and crazy colors for boudoir.
Nails
If you think of your nails as accessories for each lingerie piece you plan on wearing, you'll naturally think about color-coordinating. If you're wearing a mix of outfits, go with a neutral gloss for fingernails and toenails, so they aren't competing or clashing with your outfit colors. And most of the time, French tips just become distracting little bits of white in otherwise silky boudoir photos, so avoid the urge to do French or American tips.

Skin
The camera loves your skin just the way it is. If you're fair, come fair. If you're olive or dark, come that way. Don't do spray tans. You can apply lotions that your skin will absorb, but don't use oils. And don't show up with a sunburn or brand new tan lines. If you want to tan, do it cautiously and naked.
Boudoir wardrobe
Whether your motivation is to please someone else or yourself with your sexy pictures, there are lots of options for boudoir looks to give you a successful boudoir session. It really depends on what kind of image you want to project. And if your shoot allows wardrobe changes, you can mix-and-match! Here are some common directions our ladies have taken with their sessions.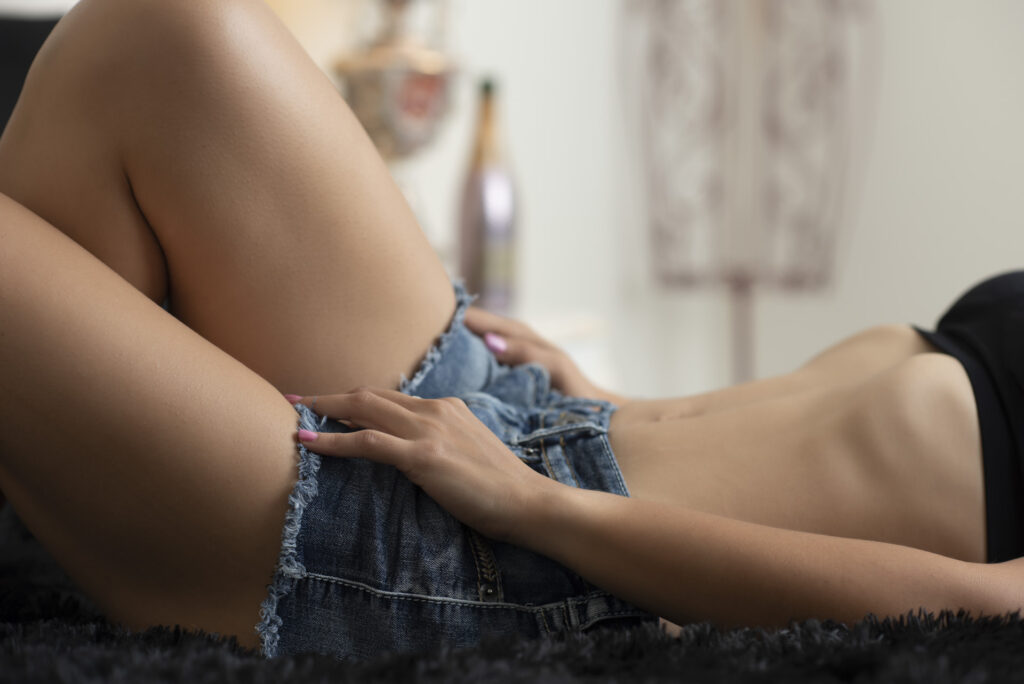 Bridal beauty
Keep it pure, but go topless beneath an obscuring cathedral veil with bridal lingerie panties. Another great shot: a closeup of your garter on your sexy leg!
Boudoir elegance
Wear a white satin gown off the shoulders with a teasing view of sheer lingerie underneath.
Sweet & (sort of) innocent
Go with lacy things in pastels, and forego stockings and no heels, which convey a more, well, professional look.
Girl next door
Be that one in the short-shorts with a spaghetti top or baby-T curled up in a front porch swing.
Boss vixen
Intimidate him with a vinyl or black lace body suit, and definitely rock those stockings and stilettos. Add a riding crop for spice.
Hot wife or girlfriend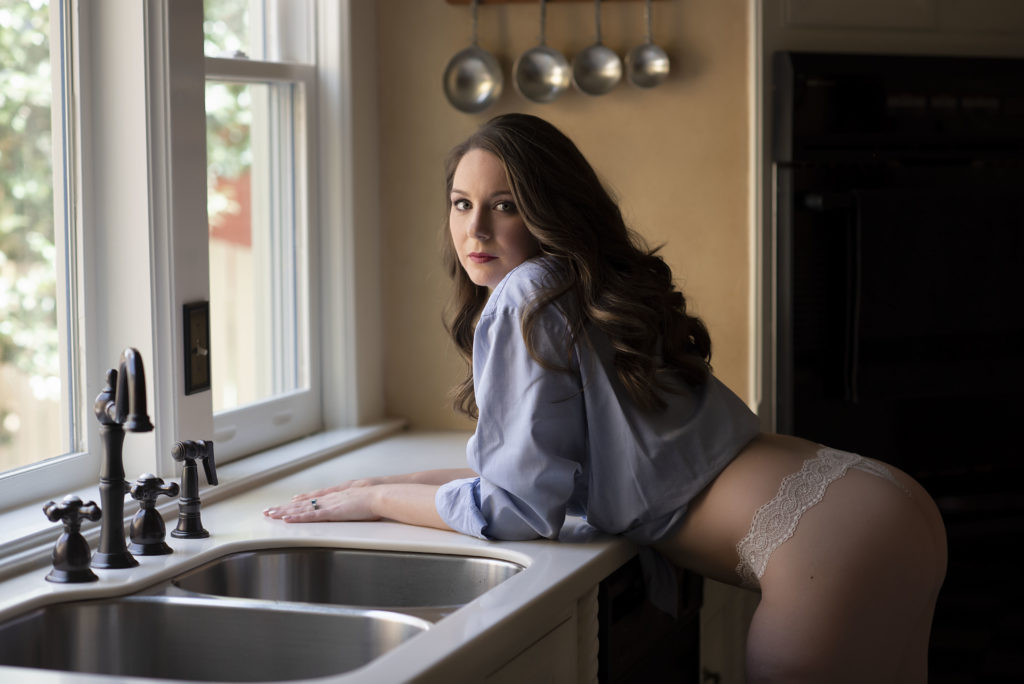 Slip topless into his favorite unbuttoned work shirt or wear his team jersey off one shoulder.
Match it with coordinated lacy panties.
You can also abuse those Saturday morning outfits he sees you in around the house. He'll see you in a whole new light on the Saturdays that follow 🙂
Bonus: Celebrate you!
Don't forget to celebrate yourself! Especially if you've just come through a life change that's motivating you to do your shoot, there's nothing like the affirmation of realizing your own beauty when you see the images from your special shoot.